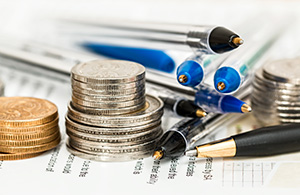 Seven out of ten American workers say financial concerns are their most common cause of stress. People generally avoid financial management because it is fraught with personal taboos, takes time and effort, and they often lack confidence in their financial literacy.
Financial pressures can impact workplace productivity, engagement, absence rates, retention and even employee health. According to the 2016 PwC Survey:
20% of employees report that issues with personal finances have been a distraction at work.
37% say that at work each week, they spend three hours or more thinking about or dealing with issues related to their personal finances.
70% of HR professionals indicated that personal financial challenges have a large or some impact on their employees' performance, mostly citing stress and distractibility as the main factors.
Financial Wellness is a state of well-being where an individual has:
Achieved minimal financial stress.
Established a strong financial foundation.
Created an ongoing plan to help reach future financial goals.
How can WorkLife Offices help their institutions' employees achieve financial wellness?
Expand your model of the Wellness Wheel - add or escalate the financial dimension to that of physical and social emotional wellness.
Host free financial education workshops. These can be offered in partnership with your institution's retirement savings program. Popular topics include Basic Budgeting, Financial Recordkeeping, College Financing 101, Car Buying, Home Buying, and Identity Theft.
Provide resources on your website and through systematic communications.

MyMoney.gov is a product of the Federal Financial Literacy and Education Commission with numerous tools, quizzes and step-by-step information on building financial security.
The Simple Dollar is a place to acquire information on finding the best products and services, saving money, making smart investments, and controlling personal finances. It offers various calculators.
How to Budget for More Happiness - the Greater Good Science Center connects research and practice through articles, tools and tips for living with meaning and compassion. Their website offers quizzes, podcasts, videos, books and studies.
Barbara Ashby is Manager of WorkLife & Wellness at the University of California