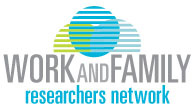 I've just had the opportunity to attend the Work Family Research Network (WFRN) conference in Washington D.C. I wore both my hat as a practitioner from Stanford, but also as the President of College and University WorkLife and Family Association (CUWFA). During the conference I heard the presentation of a number of fascinating papers that reflected so many of the themes we as practitioners see in our work every single day. With over 100 breakout sessions, with three to four papers presented in each, I didn't even come close to hearing all of the great work being represented at WFRN. However, what was abundantly clear and reflected in the research hypotheses, observations, and paper presentations I heard were the realities of the parents and employees we touch with our programs, services and interventions. The data being collected by these researchers supports the work we do every day as practitioners.
Upon reflecting on the research and connections I made at the WFRN Conference, here are just a few of the thoughts I've taken home with me:
The various studies on dual-career couples and how they make daily decisions to avoid or mitigate work-life conflicts made me think of the many people we interact with who are navigating the challenges of meeting teaching, research, clinical and family obligations. We see them on the days they feel successful in doing this and the days when these various obligations have become overwhelming and they stand on a brink. Often it is our outreach and support that helps them walk back from that brink.
The studies on the lack of affordable child care across the country made me think about the struggle many of us have with long wait lists, populations who cannot easily afford the services we do provide, and the challenges we face relative to child care/early education staff to support our programs.
The concept of parenting as a "whole life" impacting event, rather than just at the entry point to parenting. This requires us to think even more broadly about supports for parents as their children go through the transitions to child care, to school, to college, and to adulthood.
The international research that highlights the ways in which our national policies fall short – especially in the areas of parental leave programs.
The studies that indicate what little progress we have made on these issues and why our employment systems can be so "immune" to change, despite the evidence of positive impact.
I left the conference feeling validated that the work we are doing at our institutions reflects the questions being asked and the outcomes I saw reflected in this research. We are putting our energy toward the right things. But there are areas of research that we should dig into more deeply to better understand how best to design and implement our interventions. We should ensure that we are taking our seats at the tables where decisions about areas of study and further investigation is being discussed. If we do this, we can influence the questions being asked and ensure that we will be receiving the data we need to help us advocate for our programs, services, and offices.
We should work to create the types of collaborations with researchers that will create an even more effective translation of research into practical applications that positively influence the institutions we serve, larger policy discussions, and family support systems more broadly. I also see opportunities for campus practitioners to help academics realize the value of helping us to improve their own work environments by partnering with their institutional practitioners. I see much opportunity for greater engagement between work-life researchers and practitioners.