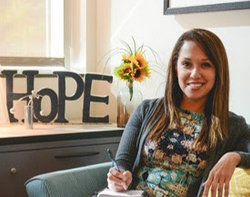 In 2017, a few days before starting her new role at Grand Valley State University, Elisa's ex-husband and father of her two children was struck by a drunk driver as he was walking home. The day following the accident, he was in a coma with severe head trauma. Thankfully, he survived, but with severe physical ailments and a traumatic brain injury.
Elisa was left to provide strength, consistency, and emotional support for her two young children, ages 8 and 10 at the time. Through this, she realized that life happens to all of us, and it can be very hard to bounce back from a difficult life event.
The topic of resiliency became interesting, actually imperative to Elisa as she found herself trying to adjust to her new normal. She admits that she struggled. There were family and friends that gently encouraged her to explore the concepts of self-compassion and self-care, the same concepts she is passionate about sharing with the folks that she serves.
After this gentle reminder to "practice what you preach," Elisa decided to join a gym to build a sense of mastery as a way to refuel not only her physical energy, but also her mental wellbeing. Through this experience, she became interested in what it might look like to apply these concepts that are proven to apply to stamina, energy, illness prevention, and overall well-being to our emotional lives. In an effort to foster that resiliency, Elisa began working to offer a new way to think about resourcing emotional wellness tools in times of peace, chaos, pain, and change.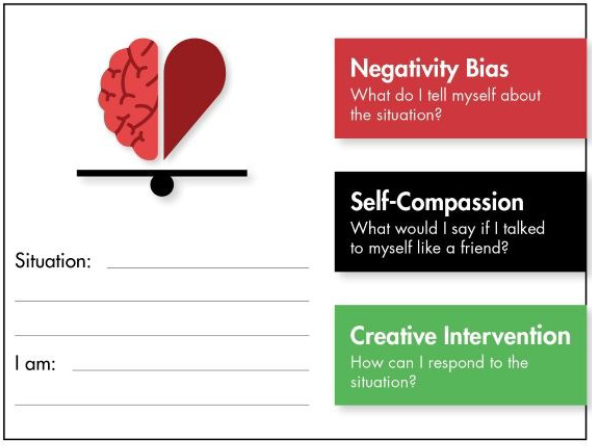 And so, Emotional Strength Training was created. This training was developed with the idea of supporting people who help other people; the intention is to hold space for those who do so much for others, and allow time to reflect on oneself. This training was born out of Elisa's personal healing journey and she hopes to share some insight into what helped her, as well as create an online community of support around self-compassion and healing.
As human beings, we have a tendency towards negativity bias, and often ruminate. These habits may cause us to become rigid and locked into negative patterns of self-talk. In Emotional Strength Training, we recognized these patterns through both writing and reflecting on our situations. To combat negative self-talk, we learned about self-compassion and relating to oneself. By strengthening our self-compassion muscle and thinking creatively about our situations, we can become more emotionally agile, and see our circumstances as opportunities to practice living out our "I am."
Although the training is three hours, the work of building emotional strength is life-long and continuous. This on-line community is intended to keep you inspired and motivated to continue working on the self-compassion muscle and pushing to become more emotional agile. This is a community of support; you make this space what it is and your voice matters. We invite you to post questions, ideas, and share stories!
If you would like to learn more about the training, see the Emotional Strength Training link. To receive this training, contact Elisa at [email protected].